Camp Guide: Let's Camp!
Infoflyer for Camp anticapitalista during theBlockupy Actiondays 2013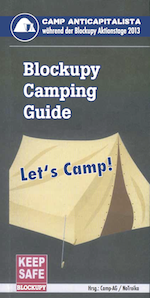 Camp anticapitalista
during the Blockupy actionsdays 2013
Blockupy
Camping
Guide
Hrsg.: Camp-AG / NoTroika
www.notroika.org/camp
www.blockupy-frankfurt.org
Let's Camp! This year, Blockupy will have it´s own campsite. After what we´ve experienced in 2012, we wanted to create a safe place for discussion, preparation and relaxation after action. This camp is the political and social "meeting-point" for Blockupy 2013.
A camp like this one is not package holiday. It´s a "do it yourself" camp that can only work if everybody helps and cares about one another. That´s why we call on all activists to pick up "camp-jobs". These would primarily include camp setup and take down, people's kitchen, protection and night watch. You can enlist for those "camp jobs" at the "shift list" that will be available at the campsite. You might as well enlist beforehand via: helfen@notroika.org
The camp is depending on the support of organisations and groups that want to create a "Barrio" at the campsite. Please contact us as soon as possible, giving us information about how many tents you will bring and how much space you will be needing: camp@notroika.org
Directions/Parking
The camp will be set up on the "Rebstock" area which is located on Max-Pruss-Strasse.
If you should want to use public transport, you should use of the Tramline 17 from Frankfurt main station and exit at the "Rebstockbad" stop. Additionally you can make use of two buslines (34 > Gallus/Rödelheim/Bornheim and 50 > Rödelheim/Bockenheim) that will also stop at "Rebstockbad".
Should you arrive by car, you will come via A5 on the A648 and exit at "Rebstock/Messe". Additionaly you will find signs that show you the direction to the camp. On the campsite, you will find free parking spaces for cars, busses and campers / mobile homes.
AND: Please leave your dogs at home.
Your first stop at the campsite should be the infopoint.
Handling of press/film/photos
The camp welcomes all activists and needs an atmosphere of trust. Off course we are positive to press coverage from the campsite. To create a positive atmosphere, we kindly ask all journalists/photographers/film teams to register at the info point upon their arrival. There you will find the press tent. You will be accompanied by activists to ensure that nobody is filmed against his/her will.
Also, we want to remind the activists and our own documentary teams that there are good reasons that speak against random filming of actions and events on the campsite. We expect that all activists can be promised not to be filmed or photographed without their agreement - not even for private purposes.
Infastructure
Directly at the camp entrance you will find the infopoint along with tents for registration, press, legal aid, material and media. We´re planning to have a charging station for mobile phones. Unfortunately we can not offer WiFi.
Further into the campsite you will find the Event and Workshop tents, a central stage, the camp-bar and the people's kitchen "Volksküche" where you can pick up meals.
On your left hand side of the blocked street, leading through the camp, you will find enough space for your own tents. Also there will be certain "Barrios" hosted by certain organisations and structures.
There will be designated spaces for child care and "out of action"-room for instance.
The camp will have multiple spots where you can find drinking water, toilets and bathrooms. (As Frankfurt is a rather expensive city, everyone who wants to reside more comfortably can – for 5.50 Euros / 4.00 Euros for students – make use of the nearby "Rebstockbad" a public pool near the campsite where you can make use of the facilities for 90 minutes. The "Rebstockbad" is open from 09:00 AM to 10:00 PM every day)
VoKü / Catering
The camp will have a "Volksküche" which is a people's kitchen on the campsite. The kitchen will, on a daily basis provide a hot, vegan meal for the activists. This kitchen can not work on it´s own tough. Public kitchens are depending on donations and support. This means – you helping in the kitchen, washing dishes and donating is what we need.
Camp-Bar / Alcohol
Next to the water stops you will find a "camp-bar" on the campsite. This bar will sell - mainly in the evening - non alcohol beverages, beer and Cider to the activists. Whatever money made at the bar will be used to finance the camp. This is why we are happy to welcome all activists to have a "solidarity" beer at the bar. Strong alcohol is not wanted on the campsite and has no place there.
Child care
To provide a great time to all our little "Blockupy" visitors and to give their parents some "child free" time to get active, there will be child care services on campsite from Wednesday, May 29th – 12:00 AM to Sunday June 06th – 12:00 AM). You can reach us (and/or your children) at 0157/80419607.
We are still looking for supporters who will take over shifts at the childcare booth and host bobbycar races through the campsite.
Contact group
There is no room for sexism, racism, anti Islamism, Antisemitism and antiziganism on our campsite. Nevertheless, should there be any verbal or physical assault, violence or discrimination, we want everyone on the camp to feel responsible. You can also get in touch with the contact group on the campsite. Here you will find support in terms of communication and social help if needed. This could also mean (if needed) to confront an offender or to create a room for protection.
The contact group has a very collective and transparent approach. You can find more information in our concept paper that can be found at the infopoint at campsite.
You can reach the contact group under: 01573 9301724
Decision making
Democractic decision making can only be provided on campsite if everyone gets involved. This is why there will be (next to the opening meeting on Wednesday and the big actionplenum on Thursday) two delegate plenum discussions (Thursday and Saturday morning) where we want to talk about all topics that are relevant and decide collective. Your participation in those plenary meetings is absolutely wanted and welcomed. At best you will organize yourself in groups and send a delegate to the plenum to speak in your interest. This is to make sure that we can, in the short amount of time we have – come to decisions.
We expect larger groups and organisations on campsite to support these plena. Also we are actively looking for people who feel capable to moderate or prepare such plenary meetings. If you are interested, please write to: helfen@notroika.orgor speak to someone at the infopoint at campsite.
Culture and events
Even before the campsite is opened there will be some events and actions. We´ve already scheduled many of the bigger and smaller events and workshops at the campsite. On Thursday there will be trainings for the big blockade that will follow on the next day. Even though the camp´s concept is that of an "action" camp, there still will be a small cultural and musical program. After successful days and events there will be a bigger concert on Saturday.
For more information on the cultural and musical program please visit: notroika.org/camp/programm. Please also look for further the announcements at campsite.
Persons with Disabilities
Since the camp is outdoors on a green area, it is not barrier-free. The street that runs through the camp (Max-Pruss-Strasse) is asphaltic and can be used at all times. Any info- and functional tents on that street are accessible. The area which will host most events, the "Volksküche" (people's kitchen) and the camp-bar are all on plain, even ground.
We will have toilets that are wheelchair accessible. Also there will be special parking spaces that are reserved for persons with disabilities. These can be found close to the camp entrance.
Protection and night watch
The camp area is - as it is part of the "Rebstockpark" area - open to most sides. We will mark the camp area with barrier tape as no one wants to cage the campers. It is possible that we will get not only campers but also certain unwanted visitors. These might either be people who are interested in the personal belonings of the campers and/or uniformed or non uniformed individuals that have a "real" bad agenda. This means: Please bring ONLY
what you could possibly live without.
And: every group or organisation that is building a "barrio" should be prepared and organized to protect their part of the campsite. We ask volunteers for other camp areas to report to the camp organisation.
Protection of another kind will concern meeting certain security standards like no open fire inside of the tents. And don´t try to wiretap the camps electricity circuit.
Act ecologically aware
We should, out of very pragmatic reasons, avoid to throw thrash or other litter into the nature and damage the area that way. Not only will we have to collect every piece of thrash after our time at the campsite is up, also the city will present us with a bill for every piece of damage or the amount of damage will be taken from the bond that we had to pay upfront in order to be able to use the area.
We will create a collecting point for thrash. To avoid garbage or to separate your waste also helps.
Donations / Tickets
Why would we ask for donations for the camp? Why is it not free as it is outside? Even if the area was provided by the city, there is a lot of cost involved for tents, stages, technology, sanitation, electricity and water. This goes from a simple thrash bin up to a lend tent. We have to face these costs together – it´s a "do it yourself"-camp, even financially.
That is why we ask everyone that is enabled to afford it to donate an amount of money out of solidarity. After careful calculation we think that five euro per night is a fair amount. Off course everyone is free to donate more, less or not at all if they wish to do so. Only solidarity with one another will enable us to create a camp for everyone, young and old, rich or poor, regional or international. Everyone is free to donate - if they want to spend the night at the campsite or somewhere else. If you want, you can be given a receipt upon donating witch should not be seen as your entry ticket or as a way to get the money back from the tax office. It´s more like a nice little souvenir from the campsite.
If you want to donate beforehand, even if you don´t want to spend time at the campsite, here´s our bank data:
Libertad! KtNo: 8020068500 GLS-Bank (BLZ: 43060967-IBAN: DE64430609678020068500) Purpose: Camp-Spende
Blockupy-Info-Line & Camp-Info-Line:
The Blockupy-Info-Line provides general information about the program, meeting points and current developments. It keeps the activists updated before, during and after the actions. The Blockupy-Info-Line is mainly there to give informations. Please do not confuse it with the anti-repression-telephone.
Furthermore, there is a Camp-Info-Hotline which takes care of the camp-issues.
The Blockupy-Info-Line is contactable:
Thuesday 28.5. to Thursday 30.5. 9AM to 10PM
Friday 31.5. 6AM to 10PM
Saturday 1.6. 9AM to 10 PM
If necessary, the Blockupy-Info-Line will be longer contactable.
Phone numbers:
Camp-Info: 0152 11878373
Blockupy-Info: 0160 6957158
EA-Notruf: 0160 95657426
Kinderbetreuung: 0157 80419607
Ansprechgruppe: 0157 39301724
eMail:
camp@notroika.org
helfen@notroika.org
netzwerk@notroika.org
presse@blockupy-frankfurt.org
antirep@blockupy-frankfurt.org
info@ea-frankfurt.org
Packing list
You should bring:
Tent / camping mat / sleeping bag
Clothes to change
Weatherproof clothes
Hygiene articles
Necessary medication
Flashlight
Earplugs (if it gets too loud at night)
What you should NOT bring:
Strong alcohol
Hard drugs
Dogs
Valuables